As big as the country music world is and as many steel guitar players there are in that world, it's often hard to get noticed. In order for one to be a successful musician, they have to stand out. They have to have that 'something special' that will cause people to stand up and take notice.
That 'something special' in the case of Donna Hammitt is her enormous gift of musical talent and knowing when, where, how, and why to use it. She is easily noticed because she is one of the very few female steel guitarists in professional country music. Operating in an almost exclusively male dominated profession can't be easy, but Donna has risen to excel and along the way has achieved the admiration and respect of virtually all of the top pedal steel players in country music.
A native of Oak Ridge, Tennessee, just west of Knoxville, Donna was born on November 19, 1971. As an only child, she grew up in a household that only listened to traditional country music.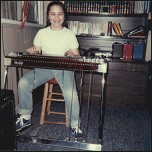 Her father, Don, had a single neck lap steel that he would take out of the closet on occasion and experiment with. One day in March of 1982, Don saw an advertisement in the Oak Ridge newspaper for a used pedal steel guitar. He said to Donna, "If you want to play this, then we'll buy it. If not, then I'll play it. Do you want to get this steel guitar?" She said, "Yes," Don called, and along with local steel guitar player Sidney Spiva who accompanied them to give his opinion on the instrument, they bought a 1970's single neck Sho-Bud with three pedals and four knee levers, and a Sho-Bud amplifier. Little did Donna know at the age of ten, that this would be the first step to a tremendously bright and successful future.
Donna began taking private lessons from well known Knoxville steel player Stoney Stonecipher. This affiliation would last for eight years. Stoney and his wife Lois were very supportive and became almost like a second family.
When she was eleven, Donna recalls playing for Paul Franklin Sr., the well known instrument builder, in his garage when she got her first Franklin pedal steel. Paul and his wife Oleda had a soft spot for children learning the instrument since their son Paul, Jr. had started learning the steel guitar at a young age. From the very beginning of their relationship, the Franklin family was so encouraging and helpful. The Franklin's are some of the finest people to know, and like the Stonecipher's, they became like family to Donna.
Herby Wallace, a well known steel guitarist from Chattanooga, now based in Pigeon Forge, Tennessee, conducted a number of classes and seminars that Donna attended which also proved to be quite helpful.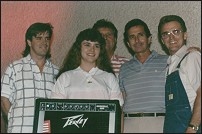 After playing for just a couple of years, Donna enrolled in one-week classes at Jeffran College, Jeff Newman's steel guitar school, in Hermitage, Tennessee. She attended in the summer months for the next several years where her teachers included Buddy Emmons and Paul Franklin. For two years they had a contest at the school. The first year the judges were Lloyd Green, Hal Rugg, Paul Franklin, and Jeff Newman. In addition to being the youngest student there, she was also the only girl. Needless to say, it would have been an intimidating experience for any steel player. In spite of the odds though, Donna took first place and won a new amplifier.
The notable steel players and other musicians really took a liking to Donna, and over time many of them became almost like second fathers and the brothers she never had before.
At the age of fourteen, Donna was invited by Sidney Spiva, who played steel in the staff band at the WNOX Tennessee Barndance in Knoxville, to sit in with the group and this became her first experience playing in a band. She did so well that she continued in this role with the group for the next year. This part of her musical education later afforded Donna the opportunity to work with some of the top musicians in a variety of country bands in the Knoxville area.
Donna's musicianship is truly a gift and she was fortunate to attend school in the Oak Ridge school system which had an exceptional music program. At the age of eleven in the fifth grade, she began playing alto and later tenor saxophone. She played all through school including the marching and jazz bands in high school. Along the way she took some music theory classes which only further enhanced her musical knowledge. Donna speaks fondly when discussing her music teachers Tom Wade, who taught her in both elementary and high school, and Dale Pendley who was her junior high band instructor, both of whom she learned a great deal from.
While in junior high and high school, Donna participated in many regional bands and clinic bands on saxophone playing both traditional band as well as jazz music.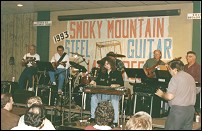 For those who are steel guitar enthusiasts, attending the numerous steel conventions is almost essential. Donna went to the convention in Knoxville and attended the granddaddy of them all in St. Louis many times.
In St. Louis, Donna played in the talent show for six years, appearing for the first time when she was just ten years old. Beginning in 1988, and for a number of years thereafter, she was invited by event producer Dewitt "Scotty" Scott to showcase her talents in the professional invitational portion on the convention; each time to an enthusiastic reception.
In 1990, Donna moved to Nashville to attend Belmont University where she majored in commercial music. At Belmont she became only the second steel guitar player in the history of the music curriculum. During her years as a college student, she continued to play saxophone and took two years of classical music studies in addition to studying musical arranging and theory. Donna started substituting for other steel players in various Nashville night clubs and also played the steel on campus for school related music programs and likewise participated in Belmont's country music showcases.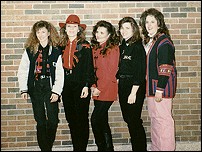 The summer months of her college years proved to be a good learning experience even though she wasn't in the classroom. During her first summer in Nashville, Donna played steel in the well known Opryland production Country Music USA. The second summer in Nashville found her working with the all-female group Wild Rose. She stayed with them through 1992 and 1993 until the unit dissolved. Working with Wild Rose solidified Donna's reputation not only as a good steel player, but as a good person as well.
While a student at Belmont, Donna's steel instructor was none other than Steel Guitar Hall Of Fame member Hal Rugg, whom many fellow studio musicians lightheartedly referred to as Professor Rugg.
Between all the steel guitar conventions she attended, college, and residing in Nashville, it afforded Donna the opportunity of being around many of the legendary steel guitarists and ultimately becoming friends with them.
Donna graduated cum laude from Belmont in 1994, but unfortunately without a job to go to. It wasn't long however before she got noticed and worked brief stays with Bob Woodruff, Greg Holland, and Paulette Carlson. She landed a position with Rhonda Vincent that lasted off and on for six months during which time the group went to Japan and guested on WSM's Grand Ole Opry. This was followed by a six month stint with Wesley Dennis.
As Mike Johnson was becoming more and more in demand for recording sessions, Donna became his substitute in Grand Ole Opry star Bill Anderson's Po' Folks Band. This continued for six months until Mike left the group which led to Donna ultimately getting the position in January of 1996. Stepping into the role Johnson had been in for sixteen years, not to mention the stylistic precedent set by Anderson's earlier steel players Sonny Garrish and Weldon Myrick, could have been an overwhelming experience for anyone. But not for Donna Hammitt. She came to the band armed with the knowledge of Bill's unique material and the signature breaks and backup licks, along with some of her own ideas, to help sell that material and the show to legions of Bill Anderson fans, as well as to the masses of country music fans they appear before at personal appearances and on national television.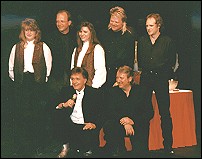 Since signing on with the PO Folks Band, Donna has had tremendous opportunities. Along the way she has toured a good portion of the United States and Canada, worked on a number of cruises (including one to Australia), performed at the International Country Music Fan Fair in front of 24,000 people, and appeared regularly on WSM's Grand Ole Opry and frequently on The Nashville Network.
One of Donna's many highlights was getting to record with Bill Anderson on his "A Lot Of Things Different" album. This all-acoustic collection has received rave reviews. In fact, many of Bill's long time fans feel this is his best album ever. There are a number of factors which contribute to all the positive feedback about this release. Among those factors is the beautiful Ped-A-Bro accompaniment from Donna Hammitt. While she had done a few custom project recording sessions for up and coming talent, this was her first recording endeavor of notoriety. And what notoriety to accompany Bill Anderson; one of country music's all time great songwriters, song stylists, and entertaining personalities.
The late Steel Guitar Hall Of Fame member Jimmy Day, will always be special to Donna. As one of her biggest musical influences, the two also became very good friends. Jimmy played on Ray Price's classic recording of "City Lights." The song as most people know was written and first recorded by Bill Anderson. After learning the way Jimmy played the song note for note, then going to work for Bill Anderson and playing it behind him, Donna feels like she's come full circle.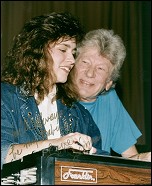 Speaking of Jimmy Day, Donna had the distinct honor of being invited by Jimmy to showcase her talents two different years at the annual steel guitar convention in St. Louis during his part of the show. Jimmy's feelings about Donna's talent were obviously evident. He knew the people were there to see him, but ever the humble man he was, he wanted the audience to also see what his friend Donna Hammitt could do with the instrument.
Among the many special attributes Donna possesses, one in particular is the fact that musically, she really gets it. Defining the fact that 'she really gets it,' is multifaceted. It's not just the fact she's a tremendously gifted and commercially tasteful player, it's also understanding the rich heritage of the steel guitar and its role in country music. Talk to her and she will readily convey the deep respect and reverence she has for the pioneering greats like Jerry Byrd, Little Roy Wiggins, Don Helms, Speedy West, and Bud Isaacs. Couple this with the deep furrows they all plowed for the instrument along with the next generation of steel guitar playing legends which became her heroes and later her friends that include Hal Rugg, Lloyd Green, John Hughey, Weldon Myrick, Paul Franklin, and especially the late Jimmy Day.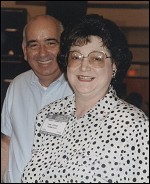 Another facet of Donna 'getting it,' is the fact that she had such a strong support system from her parents Don and Janis Hammitt. They brought her up right with good traditionally conservative values and ethics not seen nearly enough today in Donna's generation. Don and Janis also firmly grounded their daughter's taste in what the true essence of what good timeless traditional country music is all about. There were plenty albums that were played in the home which featured large doses of steel guitar and Ray Price style 4/4 country shuffles. Additionally, Don and Janis encouraged their daughter every way possible with her music and made sure she never missed the opportunity to better her abilities. From the start, they enclosed the back porch for a practice room and Don installed knee lever extensions and got her a taller kitchen stool to sit on so young Donna could more easily learn the instrument. Whether it was time for a lesson, attending a steel convention, or just going to concert where a steel guitar player would be performing, Don and Janis were always there.
On a personal note, I first met Donna in the spring of 1995 not long after I moved to Nashville. Since that time I've watched and listened attentively as her playing has matured and only gotten better. Aside from countless wonderful moments at the Grand Ole Opry, first with Rhonda Vincent and for the past five years with Bill Anderson, I've also had the opportunity to observe Donna in a number of other settings. One evening that was enjoyed by many was in the spring of 1998 at The Nashville Network's taping of "Lady's Night At The Wild Horse." Donna participated by invitation in this all-female cast that performed at the Wild Horse Saloon in downtown Nashville and has been rebroadcast on several occasions.
The one event though which really stands out is the annual Opry Day, held every February at the Florida State Fair in Tampa, which we've both participated in for the past several years. The PO Folks Band has had the distinction and pleasure of accompanying all of the acts on the show. This year Donna and the rest of the group backed no less than thirty-six acts for two shows, with the evening performance lasting three hours and twenty minutes without a break. The physical and mental stamina to do a show like this is one thing, but the talent it takes to accompany thirty-six acts, not just with backup licks, but playing the signature instrumental introductions and breaks, 'really separates the men from the boys,' as the old saying goes. Donna Hammitt is not a man or a boy, though. She is an extremely gifted woman who is blessed with a talent that is greatly admired, appreciated, and respected by both men and women as well as musicians and fans alike.
Catch Donna on the road with Bill Anderson and the PO Folks Band when they come to your area. Their schedule can be gotten through Bill's website at www.BillAnderson.com. When you go, you'll witness a wonderfully entertaining country music show; a show which Donna adds greatly to.
You can also listen Friday and Saturday nights to Donna on WSM's Grand Ole Opry whenever Bill Anderson is on the show. In thirty-eight states and parts of Canada you can tune in after the sun goes down to the show on WSM at 650 on your AM dial. If you have access to the Internet, you can listen world wide over www.WSMOnline.com.
Getting to meet Donna is like meeting a well thought of relative you've never met before. Her friendly smile and winning personality confirm the beautiful person she is both inside and out. You'll never hear anyone say a bad word about Donna Hammitt. To know her is to love her. With a reputation like that, along with her God-given talent, she can certainly do no wrong.
Here's wishing Donna Hammitt a lifetime of continued success and happiness with the pedal steel guitar in country music.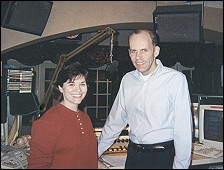 One of her friends and admirers,
Eddie Stubbs
WSM Grand Ole Opry Announcer
Nashville, Tennessee
March 2001